Council Information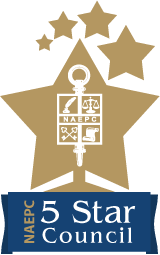 Our Council continues to be recognized as a 5 Star Council by the National Association of Estate Planners & Councils as a part of the Leonard H. Neiman and Walter Lee Davis, Jr. Council of Excellence Award program. This honor was created to recognize estate planning councils that have demonstrated a high level of achievement in areas critical to a successful membership experience.
The Estate Planning Council of Eastern New York, Inc. welcomes professionals from all of the estate planning disciplines.
Our regular meetings are held four times each year in September, November, January, and May. Most meetings consist of one to two hour educational programs qualifying for continuing education credits followed by a dinner. The meetings schedule for the current year is posted on this website. We welcome non-member guests to attend our meetings and invite first-time guests to join us at the members' reduced price.
Membership in our Council may be obtained by submitting the membership application found on this website to our Executive Director, Stephanie Cogan, with the $50.00 application fee plus the membership dues for the current year. Please note you are required to obtain the sponsorship of two current Council members on the application including one from within your own professional discipline. Annual membership dues are $125.00 per year unless you join the Council after the January meeting in which case the dues for the balance of the membership year ending June 30th are only $65.00. Renewal notices are issued by our Executive Director in the summer.
Our Board of Directors consists of nine Directors elected by our members serving staggered three-year terms, four Officers elected by the Board of Directors and the Immediate Past President. This group of fourteen individuals together with our Executive Director meet throughout the year to manage the affairs of the Council and plan for future programs.