About Us
The Estate Planning Council of Eastern New York was established in 1936 and was incorporated under the New York State Not-For-Profit Corporation Law in 1995. We have approximately 200 members from the accounting, legal, banking, trust, insurance and financial planning disciplines dedicated to professional Estate Planning.
The objectives of the Estate Planning Council of Eastern New York, Inc. are: (a) to promote professional standards of excellence and integrity; (b) to offer educational and informational programs to its members; (c) to further the growth and scope of the estate planning activities of its members; (d) to encourage networking opportunities among members that establish and foster professional relationships; and (e) to promote the exchange of ideas and knowledge in the multi-faceted disciplines of its members.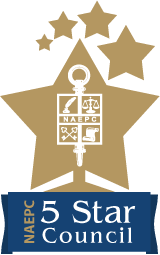 Our Chapter continues to be recognized as a 5 Star Council by the National Association of Estate Planners & Councils as a part of the Leonard H. Neiman and Walter Lee Davis, Jr. Council of Excellence Award program. This honor was created to recognize estate planning councils that have demonstrated a high level of achievement in areas critical to a successful membership experience.